Justin Ling: The Liberals are hypocrites
Just like every party before them, Liberal ideas are running aground on the reality of governing. What's grating is that they pretend to be better.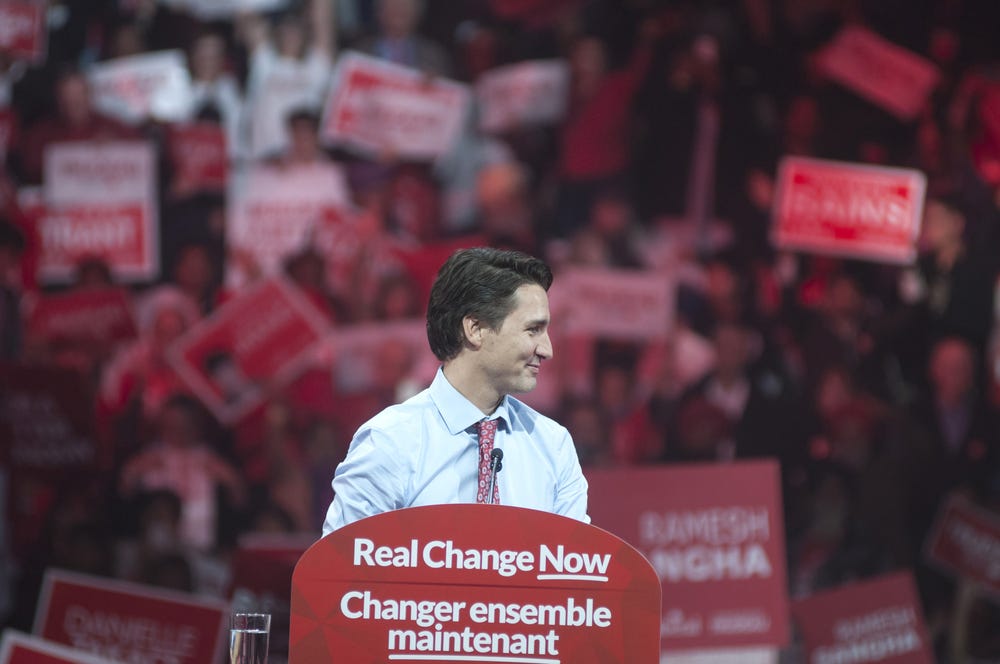 It was just seven years ago that Justin Trudeau promised "open nominations in all 338 ridings." It feels like an eternity since then, but he swore: "Members will choose their candidate." 
Since then, Trudeau has learned how hard governing can be: promises relating to governance and accountability have been jettisoned along the way. Electoral reform? Out the window. Expanding access to information? Over the side. Empowering individual Members of Parliament to speak their mind? Okay — maybe that was never going to happen.
The party faithful had to endure another core tenet of the Liberal brand being lost along the way, when they learned that Trudeau's open nomination pledge wouldn't survive into their second mandate. 
Now into their second mandate, as they gear up to ask voters for a third, the hypocrisy is obvious. The Liberal brand of sunny, nü-democracy has, once again, been exposed as basically the old model with a new hat.
As it prepared to call two by-elections, the Liberal party made some announcements via tweet: In Toronto Centre, to replace fallen finance minister Bill Morneau, the party installed former CTV host Marci Ien. In York Centre, the lucky Liberal is Ya'ara Saks.
Trouble is, two candidates were already vying for the gig in Toronto Centre — a riding that encompasses everything from the affordable housing of Regent Park to the glass towers of the financial district. Further, there was another Liberal seeking the nomination in York Centre, in the northern part of the city.
Why, exactly, the prime minister parachuted in his own hand-picked candidates is a good question. Unless an election is imminent, there was no particular rush: the prime minister had until February to actually call the byelections. And the pandemic isn't much of an excuse: if we can have an election, we can have a nomination meeting, which can largely be done by mail.
Brett House, the deputy chief economist at Scotiabank, was seeking the Liberal nomination for Toronto Centre. His competitor Paul Saguil is a TD executive. The riding, which includes the Gay Village, is one of the few in Canada that includes a significant and visible LGBTQ population. Both House and Saguil are members of the queer community. 
"I hoped to be the first openly gay MP for the Village," House told me in an interview. He also hoped to bring his banking experience to Trudeau's build-back-better post-pandemic promise.
Saguil had a small army of volunteers door-knocking for him, and he even had pamphlets made up — he won't get a refund for those.
And yet, House has been nothing but magnanimous about the party who pulled the rug out from under his feet — "all of us who got active presumed and hoped for an open nomination contest, but I respect the party's [right] to make the decision," he told me.
As House points out, no formal nomination process had even begun. "That's part of signing up and putting your name forward, you respect this is one of the possible outcomes," he says.
But when House jumped in the race, Trudeau's promise to have open nominations every single riding was still, notionally, the party's law of the land.
As the party told me in an email: "Their nomination as Liberal candidates is fully in line with the Liberal Party of Canada's longstanding rules for the selection of candidates." Those rules, of course, say that the party must hold an open nomination contest — unless the leader doesn't feel like it. They did not respond to questions as to just what had happened to Trudeau's open nomination pledge.
Ien is plenty accomplished in her own right — she's a mother of two, she's been a journalist and broadcaster for more than two decades, and she's won multiple awards for her work.
The argument could be that Trudeau appointed Ien to assure a place for racialized people in Parliament — which may be a perfectly good reason to appoint Ien. And she likely would have won a nomination contest, especially if it was implied she was Trudeau's main choice. But now she doesn't even have a chance to win over fellow Liberals in her community. And, as the riding has been a Liberal stronghold since 1993, the nomination contest would likely have been more competitive than the actual by-election.
House is going to go out and campaign for his replacement. Because that's what party faithful do. But that's also why the party won't change. It won't even hold itself accountable for its own promises, and certainly doesn't take well to anyone else trying. How do you even demand your party hold open nominations when, according to party rhetoric, they already do?
It's plainly hypocritical. Then again, getting through politics without being an occasional hypocrite is like trying to walk through The Bay without getting hit with perfume. The issue is that the Liberals consistently refuse to own up to the hypocrisy of their own positions. Whether on prorogation, ethics or election promises, the Liberals behave in the same way as previous political parties. Yet they expect the rest of us to pretend that they don't — seemingly because they believe that their purer and more noble intentions ought to give them a pass for their own bad behaviour.
Insofar as there's ever a debate in Canada about our political parties' internal democracies, the Liberal party officially considers itself a big fan of letting the members run the show. The problem with that self conception is that it's not really true. They'll never budge from the notion that they should be vaunted for honouring the spirit of the idea — if not the actual practice of it.
How do you argue with someone who won't own up to their own actions?
It's a pervasive problem for this government. On reconciliation, they want credit for endorsing the calls to action of the Truth and Reconciliation Commission without actually doing all of them. On international affairs, they want credit for expanding Canadian influence without succeeding in doing so.
It's not just that they're lying. All leaders lie. Erin O'Toole just went through a leadership race pretending he's a hard-right Tory. The problem with the Liberals is that, after they lie, they want you to congratulate them for it.
---
The Line is Canada's last, best hope for irreverent commentary. We reject bullshit. We love lively writing. Please consider supporting us by subscribing. Follow us on Twitter @the_lineca. Fight with us on Facebook. Pitch us something: lineeditor@protonmail.com